Retired Marine Corps General John Kelly, hired to bring discipline to a crisis-ridden White House, began his first day on Monday as President Donald Trump's second chief of staff with a strong endorsement from his boss.
"He will do a spectacular job, I have no doubt, as chief of staff," Trump told reporters in the Oval Office after Kelly was sworn in. Later, in a meeting of his Cabinet, Trump said that Kelly's work as Homeland Security secretary — where he vigorously implemented the president's promised crackdown on undocumented immigration — "is nothing short of miraculous."
Kelly has been promised full authority over the president's staff, according to two senior White House officials who requested anonymity to discuss internal personnel matters. Still, it's unclear how that will play out within a White House where many of Trump's aides have grown accustomed to free and easy access to the president. Lacking support from Trump, former chief of staff Reince Priebus was unable to combat the infighting, unauthorized leaks and lack of message discipline that have thus far stalled the president's agenda and frustrated Republicans in Congress.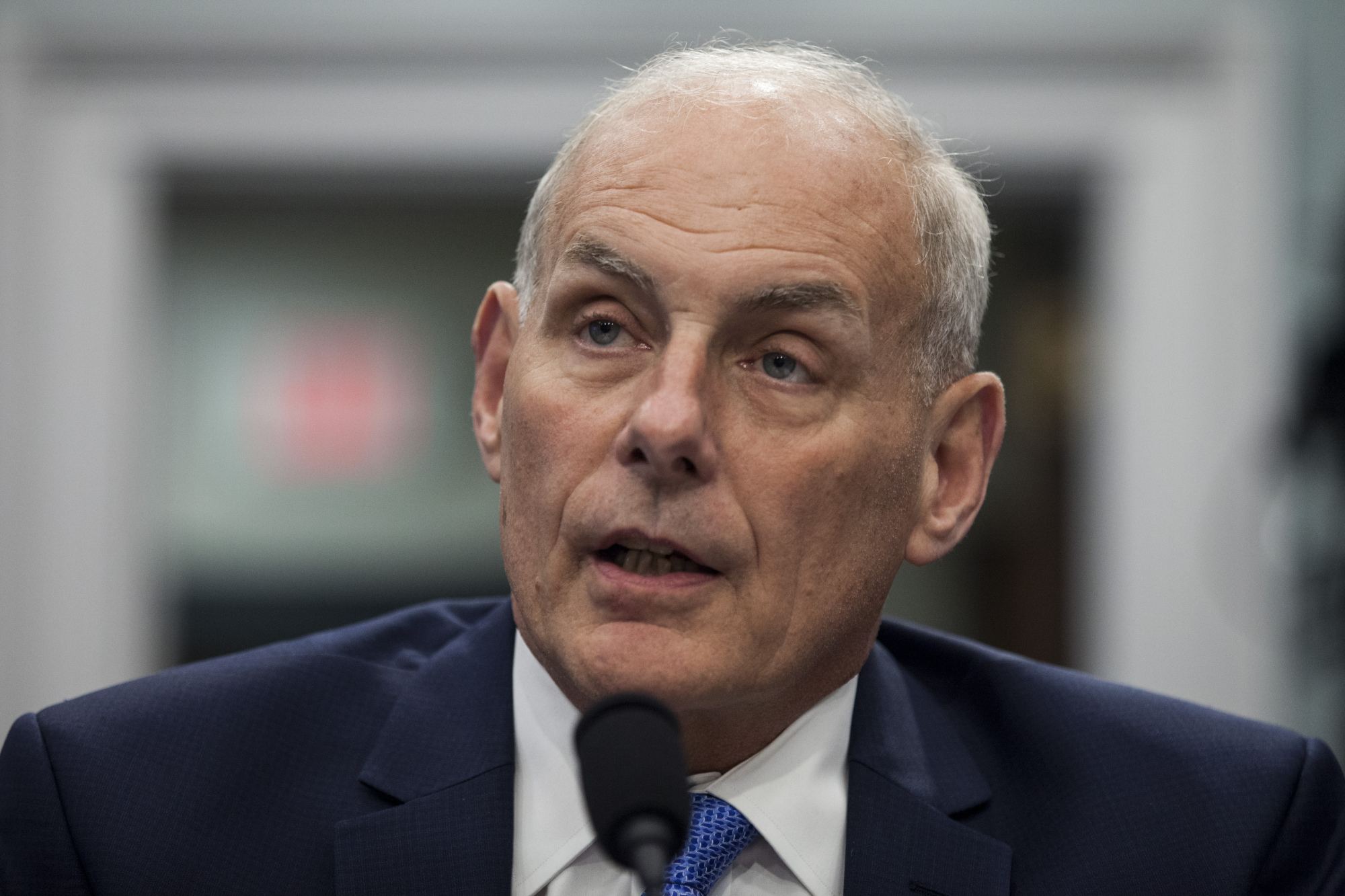 And Kelly probably won't have any more success than Priebus in curbing Trump's own impulse to let his itchy Twitter finger get him off-message. He may not even try. The president has cast aside Priebus and other establishment voices in his orbit, elevating instead those like Anthony Scaramucci, his new communications director, who indulge Trump's firm belief that, to retain his base support, he must be himself.
Course Correction
Kelly, 67, represents a course correction after Priebus proved ineffective, said Chris Ruddy, chief executive officer of Newsmax and a Trump friend. Priebus declined to comment.
"The president is about performance. He rates everyone, including himself," Ruddy said in an email. "After health care failing and constant leaks, I think the president made a move to hit the reset button and bring in new leadership. It was smart and decisive."
In a signal that the White House was regrouping after its tumultuous week and defeat on the health care bill, Kelly focused his first Cabinet meeting on the upcoming push to overhaul the nation's tax code.
"The number one topic of the Cabinet meeting today was talking about taxes, tax reform, what it would take to get tax reform done this year," Gary Cohn, the president's top economic adviser, said Monday.
The president said in a tweet Monday that stock-market highs, low unemployment, improved border security, the confirmation of his Supreme Court nominee and other economic indicators are all evidence that his administration is performing well. ''No WH chaos!" he wrote.
Chain of Command
White House officials have said they expect Kelly to quickly clarify the chain of command and to establish rules and procedures for those seeking access to Trump. He also brings with him to the new job a trusted adviser, Kirstjen Nielsen, his chief of staff at Homeland Security, a White House official said.
"Trump doesn't really like to delegate. He likes to be accessible," said David Cohen, who teaches political science at the University of Akron in Ohio and is writing a book about White House chiefs of staff. "The number of people who have walk-in privileges to the Oval Office is unlike anything we've seen in the modern presidency."
Trump's daughter Ivanka and son-in-law Jared Kushner, both also senior advisers to the president, have committed to work with Kelly to create more order, a White House official said. While it's unlikely that the walk-in privileges of Trump's children will be curtailed, other senior officials may lose their direct line to the president.
The general could find several allies within the competing power structures of the White House. They include chief strategist Stephen Bannon, who throughout Kelly's brief tenure as Homeland Security secretary has privately praised the Boston-born military leader's effectiveness in an administration that often hasn't functioned smoothly.
Two people close to Trump and Bannon said the latter's position in the administration doesn't appear to be in imminent jeopardy, even after Scaramucci crudely criticized the strategist — an architect of Trump's win in November — in a New Yorker interview published last week. Priebus's departure was foreshadowed after the new communications director took their monthslong feud public, using profanity to describe the former chief of staff as a "paranoid schizophrenic" in the New Yorker story.
More From this publisher : HERE
Recommended Products