U.S. President Donald Trump once again unloaded on Amazon.com Inc., tweeting that the company is hurting other retailers and implying that it's killing industry jobs across the U.S.
Amazon is causing "great damage to tax paying retailers," Trump said in a Twitter post Wednesday, causing shares in the online retailer to fall.
"Towns, cities and states throughout the U.S. are being hurt – many jobs being lost!" Trump said in the tweet.
Trump's reference to "great damage" echoes chatter in Washington and academic circles that Amazon and other technology companies may have become too big and powerful. Apple Inc. Alphabet Inc., Microsoft Corp., Facebook Inc. and Amazon are the biggest companies in the world by market cap and dominate many facets of everyday life. Some critics have even suggested that they should be broken up.
During the presidential campaign, Trump claimed Amazon was a monopoly that he would go after for antitrust violations if he were elected. Amazon takes about 70 percent of all e-book sales and 30 percent of all U.S. e-commerce. "Believe me, if I become president, do they have problems. They're going to have such problems," Trump said in February 2016. In the U.S. it isn't illegal to have a large market share.
In June, Amazon agreed to buy Whole Foods Market Inc. Experts and analysts have largely dismissed antitrust threats for the world's largest online retailer, though a U.S. lawmaker has called for hearings on the proposed deal to consider its ramifications for shoppers and workers.
For more on the debate over whether tech companies are the new monopolies, click here
While it's unclear what prompted Trump's tweet, The Washington Post ran a scathing editorial about Trump in the paper Wednesday, and there were also pro-tax reform advertisements that ran on early morning talk shows. Amazon's shares fell less than 1 percent to $975.19 at 10:18 a.m. in New York.
Trump's tweet about jobs lands amid one of the most tumultuous years in the industry's history. Brick-and-mortar chains, especially apparel sellers, are suffering from sluggish mall traffic and an exodus of shoppers to e-commerce.
A rash of chains have filed for bankruptcy this year, including Payless Inc., Gymboree and HHGregg Inc. and RadioShack. And the biggest department-store companies, such as Macy's Inc., Sears Holdings Corp. and J.C. Penney Co., are shuttering hundreds of locations. The total number of store closings is expected to hit a record in the U.S. this year, with Credit Suisse Group AG analyst Christian Buss estimating that the number could exceed 8,000.
On the other hand, Amazon is hiring rapidly. The online behemoth has pledged to hire more than 100,000 workers by 2018 and has been holding job fairs all over the U.S. In some cases, fired department store workers are ending up at Amazon fulfillment centers.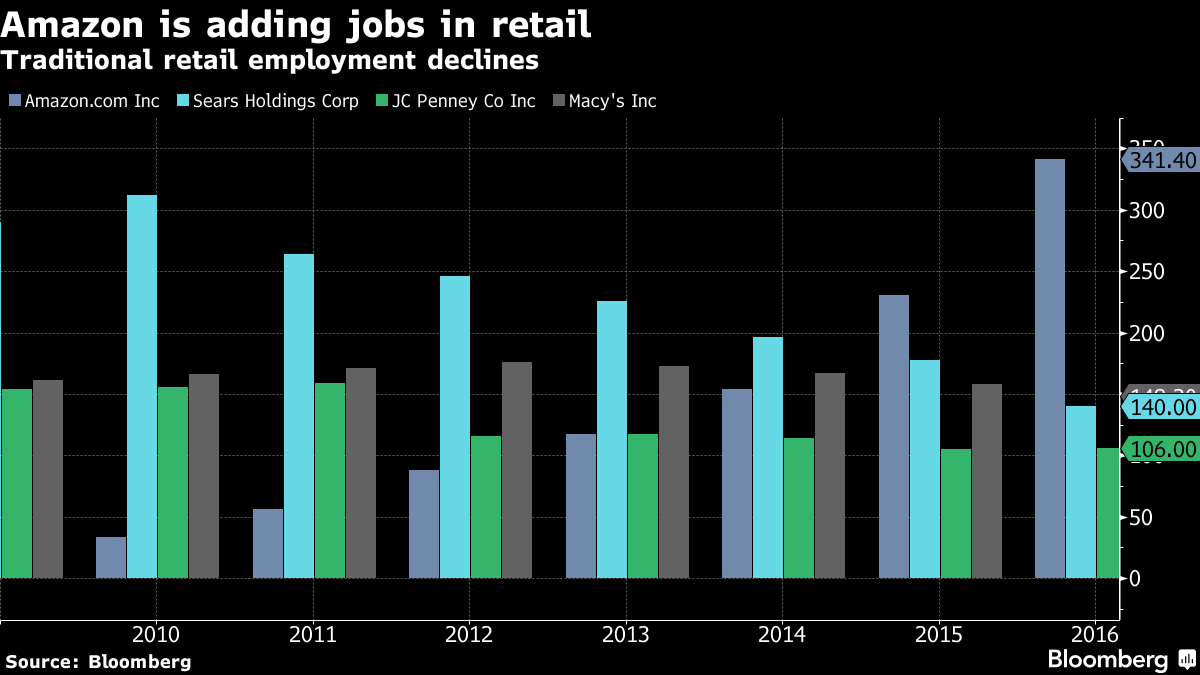 In his tweet, Trump also hammered Amazon again on tax-related allegations. It's unclear exactly what he means since the company now collects sales tax in each state that has one. There is one loophole left: Shoppers don't have to pay sales tax when they buy from one of Amazon's many third-party vendors. Such sales make up about half of the company's volume.
Trump's relationship with Corporate America has frayed since his inauguration and several company executives resigned this week from a business council to protest the president's response to the violent demonstrations in Charlottesville, Virginia.
But Trump has often taken particular aim at Amazon and the Washington Post, owned by Amazon founder Jeff Bezos, for its coverage. In June, the president posted a tweet attacking "AmazonWashingtonPost, sometimes referred to as the guardian of Amazon not paying internet taxes."
In December 2015, Trump also described the Washington Post as a tax shelter that Bezos uses to keep Amazon's taxes low. Without these arrangements, Trump argued, Amazon's stock would "crumble like a paper bag." Bezos actually owns the Washington Post via a holding company separate from Amazon. Amazon did not respond to a request for comment.
For more on Amazon, check out our tech podcast :
Amazon has been battling a number of politicians from both the U.S. and Europe about its stance on tax. In the U.S., Amazon previously fought to only collect sales taxes for purchases in states where it doesn't have a physical presence. Now it has a legion of distribution centers and collects sales tax in every state that has one.
The U.S. retailer is currently fighting the European Union over its tax bill, while in March it won a $1.5 billion tax dispute with the IRS.
More From this publisher : HERE
Recommended Products
If you like our content help us with a share… or two …  
Also -  I have some free stuff for you .......
Nr 1. Top 10 Email Marketing Mistakes. Which of these mistakes do you make?
Nr 2.  You can learn about : The hottest social networking site that will send an unlimited stampede of traffic to your site - for FREE! How to quickly locate a swarm of hungry buyers using "information portals"! The fast and easy way to use simple images to siphon targeted traffic, on command! Learn how to get the most possible traffic from Instagram, and make sure that traffic converts! And much more ...
Nr 3. It's no secret… Facebook is an incredible place to get tons of free, viral traffic. But… most people are going about it all wrong.  How many of these mistakes are you making? Download the free report to find out.
Nr 4.  Special free report .  It's called "Operation Midas Touch" and you can download it here...
The report features a surefire method for generating at least $1000 per week online,without a website or product of your own!
Nr 5.  Instagram is still one of the hottest ways to get a LOT of traffic fast. All by sharing images. Sounds easy enough, yeah? Well, yes and no. If you want to really start driving a lot of  traffic and making sales using Instagram then you should download this report.
Nr 6.  When it comes to creating a product online there are so many ways to approach it. Wouldn't it be great to just get the meat of it all so you can get started faster? Well, the good news is, today you can download a guide called the Product Creation Formula Quickstart Guide. It's as the title suggests - a Quickstart guide. You'll get a list of action steps to take right away. Download your copy today !
Nr 7. Would you like to finally USE all of that dusty PLR you have sitting around on your harddrive? Or maybe find the resources for the best PLR available - at the best prices? What about how to use that PLR to make you money with just a few minutes of work. Well, you're not going to want to miss this!
  Nr 8. Buzzfeed's top post has more than 21 million views. Think about that for a sec… ONE of their articles has had over 21 million people who have read it! And they have thousands of articles... what would you do with that kind of traffic? A friend of mine hacked their method and was able to use it to get 11,592 targeted new subscribers in 2 weeks on their very first attempt!
Nr 9. Push notifications are one of today's hottest trends in website traffic and conversions, and for good reason. Studies have shown that as many as 40% of people will opt-in for push notifications, which is about TEN TIMES the rate of people who opt-in for emails! That's huge! Not only that, but they're also highly effective at pulling clicks, as well. Some studies have shown CTR at an average of around 40%, with highs of as much as 80%! Again, that's huge!
Nr 10. Would you like to know how to get more money from the exact same number of website visitors you're currently getting? Even if you're website is getting as few as 1-2 visitors a day, this report will show you how to increase your profits using these few handy hacks.
Nr 11. People have now realised that it's not the size of the list which matters, it's the quality. ... and the only way to create a quality list is by launching your own products. Let it be $7 ebooks, $17 info products, $27 video training product or software's... all of these work. My good friend Kevin Fahey has is revealing how he's launched over 20 products in the past 4 years, many of them top sellers. Needless to say he's banked a handsome amount in this time.
Nr 12. Do you ever feel that the man you like or even love, just doesn't see you or desire you in way you want him to? Or... maybe you're able to get a man's attention though not the right kind of attention? Or... maybe you're still single because you wait and wait for men to approach you first? What you may not know is that the way we flirt will either attract the "wrong" man for us or the "right" man.
Nr 13. When it comes to getting sales and leads online, there is ONE thing that 95% of marketers use... it's called a LIST. My friend Jimmy just released a free book that explains WHY a list is important and how YOU can build your own list. It's available right here (and it won't cost you a penny)
Nr 14. If you have tried everything, and still aren't able to get your Ex back, then you need to pay attention.
Nr 15. What if I told you that you could make ANY woman WANT to do ANYTHING for you? Would you think I'm crazy? Well... what If I told you that you could also make her LOVE every minute of it and come back for more?
Nr 16. I have a special free plugin for you today. It's called "Covert Hover Mini"
This plugin will triple your blog traffic by compelling your visitors to share your images on social media. This is some really clever stuff and it works like a charm. After you grab your free plugin, don't  forget to read the free bonus report as it will show exactly how and why this strategy works like crazy.
Nr 17. The days of being able to get away with a basic WP theme and a pic or two are gone, your site needs to look good. Even Google are looking for you to have engaging graphics on your site. But getting good quality graphics made for your site is a pain, AND it will cost you both time and money (if you outsource it). But I have a special free download for you today. A virtual treasure chest of over 21K profit pulling graphics you can start sing today to generate more traffic & sales!
Nr 18. 20 professional full HD background videos. These background videos are perfect for giving your videos that extra kick they need to stand out from the crowd Oh yeah they are in full 1080p HD too, I hope you'll enjoy them.
Nr 19. If you've ever failed to create a WordPress site of your own or typically waste hours & even weeks trying to figure it all out on your own....
Nr 20. No doubt, you've seen all of the video launches lately! There is a reason for it... Video marketing is a GREAT way to make money, and with the recent creation tools making it super accessable for anyone to get started... It's no surprise that more people are making videos. However... there is a missing element to most video marketing products...
Nr 21. For the first time ever... You can get the straight scoop on how someone is selling over $1,000,000/year of t-shirts on Facebook!
Use them  .... and have fun !